Lormar Wireless Companies
About Lormar Logic Company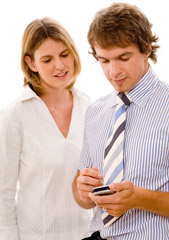 Lormar Logic Company, an award-winning wireless innovator, entered the telecommunications market in 2000 with a system that placed and received TTY phone calls for the deaf community from email pagers. Lormar Logic™ soon added web-based calling, allowing users to make real-time TTY calls through cell phone web browsers. Lormar's latest offering, Instant TTY™, places TTY calls using instant messaging services. Lormar's innovations have gained widespread use, with its instant messsage relay system now being used by Hamilton Relay, Sprint, MCI, and others.
Lormar's list of accomplishments include first relay or TTY call using instant messenger and first relay or tty call made using a cellular phone Internet browser. In July 2005, Lormar Logic was awarded the Andrew Saks Engineering Award by TDI, Inc. for outstanding engineering achievement in the area of telecommuications access.
Lormar's FRECOS™ division develops web-based text messaging systems for hospitals, utilities, police departments and other governmental entities to alert off duty personnel, via text messaging, of emergencies and other call-out events, such as natural disasters, hostage situations, high-casualty traffic accidents, and other off-normal events.
Lormar Logic also develops and manufactures portable wireless video surveillance systems for docks, construction sites, Homeland Security targets, hiking trails, and other remote locations.
Please do not hesitate to contact our Customer Service Department if you have any questions.
Lormar Logic Company
P.O. Box 12823
Knoxville, Tennessee 37912-0823
Contact Us
(865) 357-3323